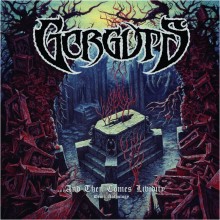 GORGUTS – …And Then Comes Lividity Vol 2 LP
Gorguts need no introduction. This massive Demo Anthology holds over 2 hours of raw intricate death metal, includes the legendary 1990 Demo on a high fidelity 45rpm 12" LP; both the 1991 Considered Dead demo tapes and the 1992 Erosion of Sanity demos in full; and the 3 rare Obscura demo tapes from '93, '94 and '95 in the years after Erosion, containing early incarnations of the songs that would eventually comprise the groundbreaking 1998 masterpiece.
Never before on vinyl, ALL tracks have been fully and carefully remastered by Gorguts bassist / engineer Colin Marston in the Thousand Caves Studios, capturing for display the raw and terrifying genius contained in these recordings.
In Stock