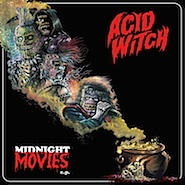 ACID WITCH – Midnight Movies LP
Just in time for a big European tour, ACID WITCH deliver a special 12″ MLP that pays horrific homage to their roots:Midnight Movies! Already one of the cultest names in the metal underground, the diabolical ACID WITCH dig deeper into the cult with four exclusive covers of heavy metal songs from 1980s horror movies! Sorcery's "I'm Back" from Rocktober Blood, Fastway's "After Midnight" from Trick or Treat, Black Roses' "Soldiers of the Night" from Black Roses, and 45 Grave's "Partytime" from The Return of the Living Dead – all get ACID WITCH's signature ghoulish touch, and it's the touch of true horror! You're never gonna find a more perfect combination than here onMidnight Movies!
Catch ACID WITCH spooking audiences across Europe in April and May 2015 on what they're dubbing the "Return to Walpurgis Night" tour! And keep a lookout for limited colored-vinyl represses of both ACID WITCH albums: Stoned on orange crush/baby blue 'half/half' wax and Witchtanic Hellucinations on orange crush/grimace purple "half/half" wax!
In Stock